Course Outline
Master's degree = deepen knowledge + broaden knowledge + learn scientific working methods
The 4-semester Master's program in Nanotechnology deepens nanotechnological knowledge and scientific working methods. In addition to the five compulsory nanotechnology modules, students take one core subject in materials science and two elective modules in natural sciences and technology.
The standard duration of the Master's program is four semesters. The number of credits required for successful completion is 120 ECTS.
All examinations are taken during the course of study and, with a few exceptions, are oral.
Course overview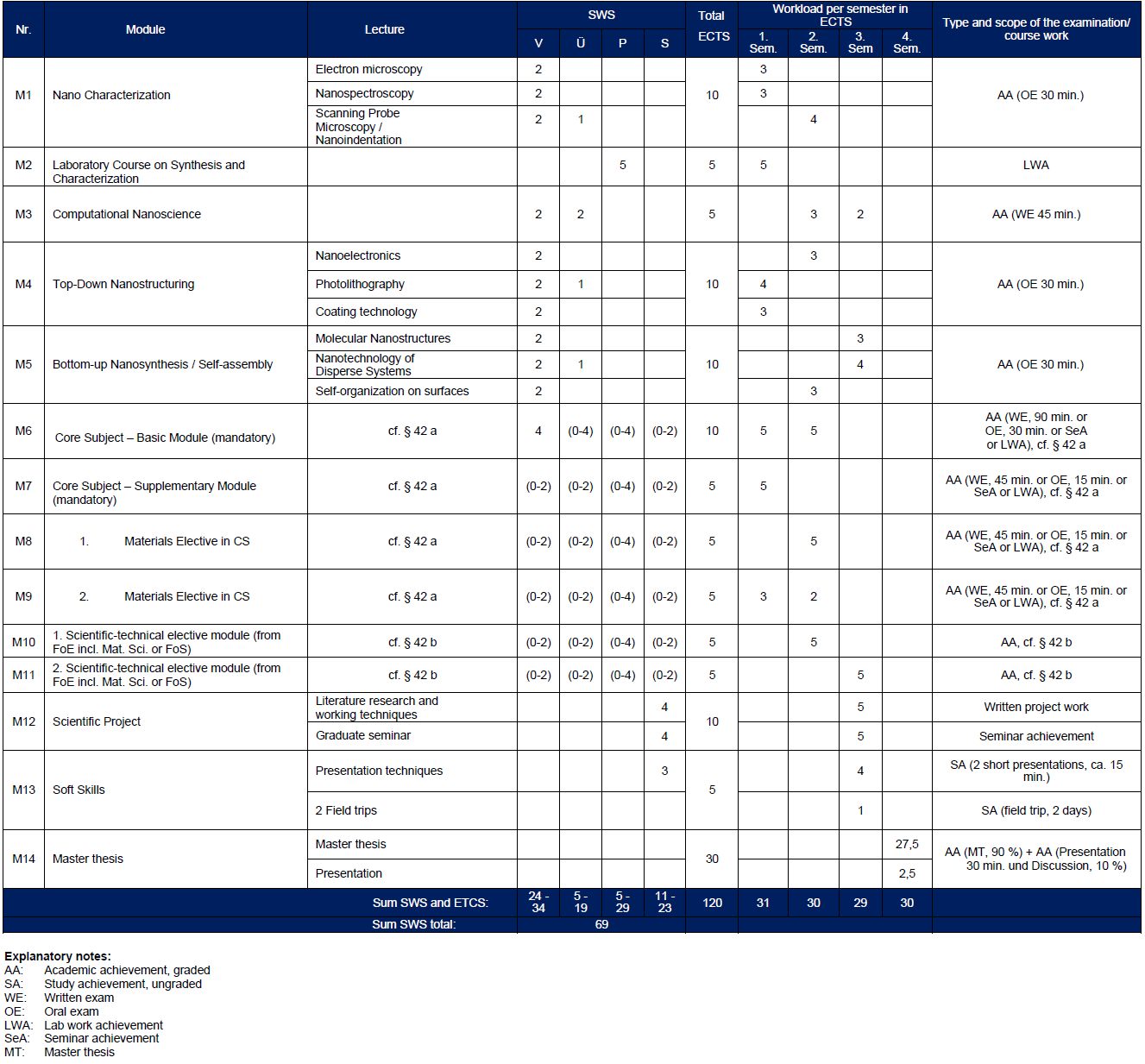 Nanotechnological mandatory courses (M1-M5)
Nanocharacterization
Lab Work Synthesis / Characterization
Computational Nanoscience
Top-Down Nanostructuring
Bottom-up Nano-Synthesis/ Self-assembly
Core Subject (M6 und M9)
The core subject is chosen from the core subject catalog of the master's program "Materials Science and Engineering".
The following can be selected as core subject:
General Materials Properties

Materials Science and Engineering for Metals

Glass and Ceramics
Surface Science and Corrosion
Polymer Materials

Materials for Electronics and Energy Technology

Biomaterials
Materials Simulation
Micro- and Nanostructure Research
The core subject has a scope of 25 ECTS. These are divided into a basic module of 10 ECTS and a supplementary module of 5 ECTS. Both basic and supplementary modules are compulsory modules within the chosen core subject and must be taken. In addition, there are two elective modules of 5 ECTS each, which can be freely selected from the subject pool of the core subject.
Science and Technology Electives (M10 and M11)
Within the framework of the scientific-technical elective module, there is the possibility to take further subjects from the offerings of the study program "Materials Science and Engineering", from the entire Faculty of Engineering and from the Faculty of Natural Sciences according to personal interest.
Scientific Project and Soft Skills (M12-M14)
In addition to the core and elective subjects, the modules "Scientific Project" (15 ECTS), "Soft Skills" (5 ECTS) and "Master's Thesis with Presentation" (30 ECTS) must also be taken.
Both the module "Scientific Project" (M12) and the Master's thesis should be taken in a core subject in which at least 25 ECTS credits have been earned.
The module "Soft Skills" (M13) is taken in one of the three core subjects.
Studying abroad during the Master program
In contrast to the Bachelor's program, a stay abroad can be integrated into the Master's program relatively easily and, if necessary, without significant loss of time. The 3rd semester is particularly suitable for this. In consultation with the study advisors or the supervising professors, equivalent study achievements abroad can be accepted.
Therefore, it is imperative that students contact their academic advisor and / or the coordinators of each exchange program well in advance of the start of their study abroad program to discuss their study plan.